This post is inspired by Greg. He is in the process of meeting 100 strangers for tea. I decided that I'd try to do the same because, as Jean-Luc Godard said: "It's not where you take things from, it's where you take them to."
He fully supported my decision to embark on meeting people this way as well, so I send much appreciation his way. I'll write them in present-tense to make you feel like you were there. I'll also number these meetings based on chronological order in the best of tab.
——
July 27th, 2011. 1:59PM.
I take a BART ride from the East Bay to San Francisco. As the train nears the city, I can't help but notice the gradual increase of humans that populate the train that I'm in. After the 5 minute spaceship-like tunnel that connects Oakland to San Francisco (train-wise, whereas the Bay Bridge does the job car-wise), I can't help but notice all the tourists, homegrown people, hipsters, street musicians, businessmen, and hobos. It fascinates me that we're all under the one commonality called humanity, yet we have so much variation.
I exit the station: Montgomery St.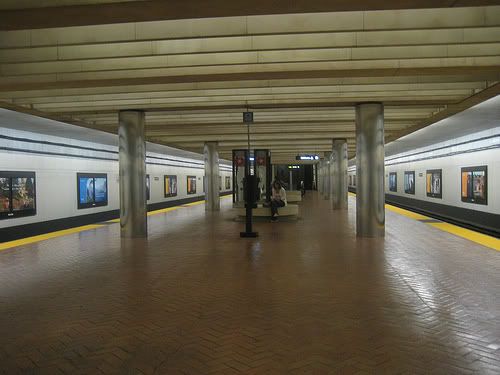 I ride the escalator into the heart of the SOMA district of San Francisco, where I am welcomed by the sun and strangers walking all around me.
As I walk along the streets, I see many people waiting for the bus to arrive. The bus hums along about a block away in the distance. I notice a few people behind me trying to make it before the bus arrives. Once the bus comes, they run into the entrance of the bus and disappear like the others. The bus zooms along.
I see many tourists walking along the streets with their families, having a fun time. I see locals walking around without minding the crosswalks. I see people texting on their phones while walking on the sidewalk. The sun shines upon all of them.
I notice how close I am to SFMOMA, the San Francisco version of the Museum of Modern Art. I've had so many memories in that funky building that spans five floors wide. I've seen different videos, different masterpieces, different works of art, with different people each time. It gives me a certain calm.
——
Finally, I end up on 3rd St. and Mission St., which is the street I'm supposed to meet Sarah.
I end up passing Starbucks, Peet's Coffee, and entered right into The Grove, which is a local coffee and tea house. It amazes me how equal the crowd density is in all three of the locations.
2:15PM.
I'm 15 minutes early. I head back to Starbucks to get a drink since I have a gift card.
The cashier kindly asks me, "Ready here sir." I tell him, "Just a small iced coffee."
I give him the gift card and see that $3.20 is remaining on the balance once the transaction is finished.
Three coffee houses all battling for customers. A quiet battle that goes on daily.
As the clock strikes 2:25, Sarah texts me and says she's just arrived at one of the tables at The Grove.
——
I enter the house-like entrance and see her sitting at one of the tables on the left.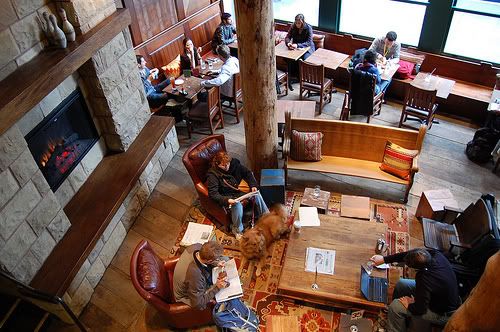 (How the Grove looks like inside.)
I sit down and say hello.
I decide to start with the fact on her about page has a goal where she wants to walk, bike, or run every street in San Francisco. It's funny because I have the same goal. We both agree it's something we have to do eventually but it isn't on the top of our lists.
She said it best: "Even if I accomplished that goal, it wouldn't make a huge difference. It would be nice to do but isn't in my top priority." I concur.
Then I asked her about the novel that she was starting to write. She stated that she's writing a novel that will be completed at the end of August. It'll be about her amazing talents of open water swimming. (She swam around SF bay as well!)
She also says that her tone and voice will be comparable to how she writes on her tumblr.
Then she asks about what I do.
I tell her that I connect with people because it's such an adrenaline rush to learn about what other amazing people are doing. I also tell her that I volunteer at a medical recycling center where they send out medical supplies to third world countries. (I'll write about that soon.)
I also say that my blog was originally about trying to get rejected each day to face my fears. I also tell her about the other experiments I do (limiting Facebook, thanking someone everyday, etc.)
Then she tells me how she had a meeting before our meetup and how she'll have another meeting after we meet up at 4pm. She tells me that all she needs is a couple of minutes between each different meetup in order to adjust herself. She speaks extremely quickly at this point. (It's the beautiful case of extreme productivity and the power of Diet Cola.)
We need to have that productivity because we're fortunate enough to be born in a first world country. In order to uphold that fortune, we shouldn't take our resources for granted. We need to make something amazing out of the opportunity.
She goes back to talking about the novel. She wants to write 50,000 words by the end of August. She tells me that she holds the pace by writing around 3,000 words a week from the beginning of May. (That's around 428 words a day, which is very reasonable if you think about it in that way.)
Finally, she shares that she'll have to say no to the next time that I (or any of her other friends for that matter) want to hang out with her because she wants to finish all of the things that's on her list of things to do. These next few months will be quite busy for her.
3:15PM.
She needs to get to her meeting and I need to get going as well. We both say "nice meeting you" and I tell her that I'll say no to her too (as a joke).
As I walk out the door, I realize that she emits an aura of productivity that can make anyone motivated.
——
Check her other work out at It Starts With.
[Disclosure: nothing exchanged except awesome ideas.]