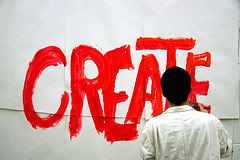 "Take up one idea. Make that one idea your life – think of it, dream of it, live on that idea. Let the brain, muscles, nerves, every part of your body, be full of that idea, and just leave every other idea alone. This is the way to success, that is way great spiritual giants are produced." – Swami Vivekananda
Prompt #6*: You have one week to live; resolve to only do what makes you come alive.
If I only had a week to live, I'd probably write as much as I could about everything that I've learned and thought about. It would revolve around the one theme: killing fear and leaving it out to dry.
I'd like to create a new theory in the whole scheme of Psychology, especially influenced by all of the rejections I do.
One week would be enough time to create that. I'd write it all out. There's no need to aim for perfection. The first draft is fine. Isn't that how life is?
What would it exactly be about?
One of the millions of examples I'd use: The oxytocin bond that denies outsiders the permission to be in a group until the barrier is broken down.
Or the ratio to other observations or insights that I've made from the world I've lived in.
I'd be able to share my brain with the world, even after the one week is up by writing every thought I ever had down.
A hybrid of autobiography, ideas, theories, plans, aspirations, fears, nightmares, regrets, and happiness.
I think creating something that lasts forever is a week well-spent, don't you agree?
Create something that outlives your one week, one month, one year, one life.
That one idea that you eat, breathe, and live for could be just the inspiration that you need to create that something.


——–
*Prompt #5 (travel) will be saved for the end because I am doing a project that relates to it!