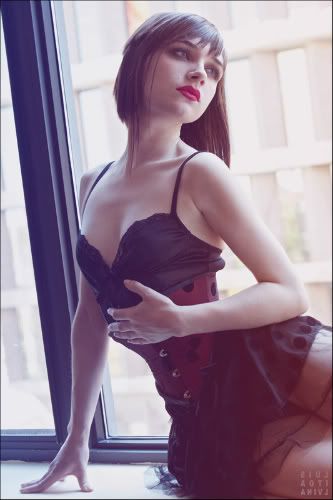 *Used with e-mail permission. Other pictures on user's site may be NSFW.
"We hold onto the good enough apartment, the good enough job, the good enough relationship…all the while truly believing that this is only temporary. We think we're playing it safe. We think we're getting the best of both worlds. We think this can't possibly hurt.
-We couldn't be more wrong. There are no safety nets in life. No backups. No just in cases. These are all illusions. To think otherwise is to set ourselves up for failure.
-You only get one shot to be you. One shot to fill your life with everything you've ever dreamed of. This one shot is your lifetime. Make it count." – Stella from Bucket360.
(Warning: This gets very opinionated. Enter at your own risk.)
There's no point in being politically correct if, like Stella says, "You only get one shot to be you."
So here goes: When it comes to relationships. I am somewhat shallow initially.
The reason for this is that I had a relationship back in 2009 (that I may write more about in a future post) that was just "good enough". I thought I was happy with it but in reality it was a false safety net. On paper it looked like we matched but my attraction level wasn't there. The vibe didn't feel right and I was trying to grind through some imaginary tunnel.
Maybe I even wanted to prove that I wasn't shallow. I wanted to prove that I could fall for someone without being attracted to them so much in the first place. Well, that didn't work out.
I'm not saying you can't talk to someone based on how they look. I'm a connector. I love meeting people. I love gaining perspective, insights, and ideas.
But when it comes to relationships, I know I have to be initially attracted to them. Then if their mind is amazing, then maybe the chemicals in my brain will be impressed.
I have one life. I can't always be politically correct. I'm too tired to be the guy who does everything "right".
It reminds me of what JK Allen said in his most recent post: "I'm the type of person who'd like to live in a world where looks don't matter. But, like you, I live in a world where looks do in fact matter."
Will it cost me intimate relationships? No doubt.
But I'm extremely tired of hearing people say, "I got with someone because he/she was good enough. I was satisfied with him/her. The person is adequate. The person keeps me from being alone. Or the clincher: I got with the person because the person was the best I could get."
-Would you constantly go to a restaurant because it has adequate service and adequate quality? No. You would want to go to a place where the quality is exceedingly good.
-Would you want to do an okay job of training for a marathon? No. You would want to train to be the best you could be.
I don't want to settle for okay. I don't want to settle for passing.
I want someone to blow my mind into a spectacular confetti like celebration.
If I risk missing out on "satisfactory" relationships, then it's a risk I'm willing to take.
In a world of absurdity, my purpose is trying to find something immensely beautiful at the risk of losing out on anything that could be deemed "the best I could get."
With my past experience, the flame doesn't expand. The flame either hits you hard during a moment where you least expect it or it never comes. You can't plan when that crazy feeling arrives. It just does.
-When I get rejected, the rejection is coming from their worldview (their tastes/preferences), so I don't take offense.
For example, I can't erase my race. So when someone I was attracted to put me into "friend zone" right away because I'm Asian, I didn't take offense. Remember, that's her worldview.
-When an Adonis/Aphrodite type character comes along to swoop the person, don't take offense.
There's no point in controlling that.
Let more opportunities happen and eventually you'll be the Adonis/Aphrodite to the eye of the beholder.
I understand preferences, tastes, and weird things that make people fall for one another. Much of the time, logic goes out the door.
So it's time to begin being unapologetic for being attracted to whom I'm attracted to.
You also have a right to be unapologetic to whomever you end up being attracted to as well.
Would some people call it being picky? Sure. I call it walking through all the static of everyone else's opinion and dating whomever I want.
That's what I aim for. I hope you aim for that too.
The best part about all of it is, the absolute best can mean huge variables to each single person.
So maybe for someone else, there needs to be a comfortable vibe at first. For another person, there needs to be a great connection first. For others, maybe it's identical, opposing, or a mixture of interests.
But for me, I'll keep my right to be somewhat shallow initially.
——
So I ask you, is it right to be somewhat shallow initially or not?
——